Major Spoilers.
Lookism, by Park Tae-joon, is an ongoing manwha that chronicles the woes of Daniel Park, who's name is actually Park Hyung-seok but apparently webtoon thinks we can't read Korean names.
Daniel is fat, "ugly" (he wears glasses), bullied relentlessly by his "peers", and is low-key a jerk to his mother. He moves schools, moves homes, is still treated badly but bam! He wakes up one day with a second body aka Hot Daniel – taller, muscular, naturally athletic – perfection. When he falls asleep, he wakes up in his fat body (or whichever body isn't awake).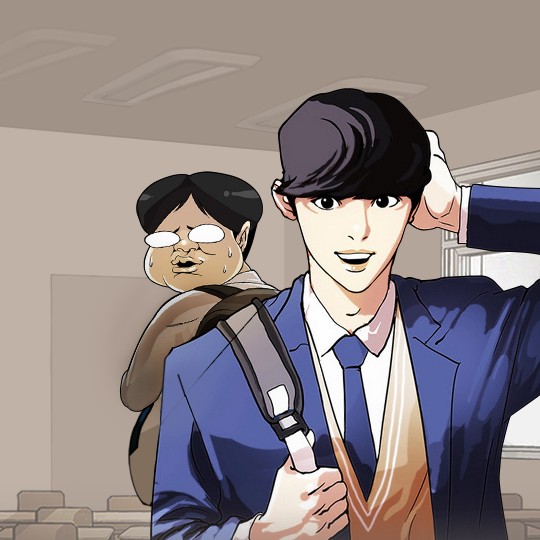 Lookism began as a really interesting commentary on, well, lookism in Korean society. How people are treated vastly differently solely because of their looks. This is seen clearly in how Hot Daniel rapidly obtains friends, benefits, friends with benefits, expensive clothes, even gets a job as a model solely because of his immense hotness. All things his portlier self struggled to obtain. Not only is he attractive, but his natural, athletic abilities and fighting skills allow him to curb stomp the very bullies who once tormented him.
Author Park Tae-joon does a good job letting Fat Daniel grow as a character too and not just side-lining him. Fat Daniel also levels up; he begins working out, eating well, gets a job, realizes how poorly he treated his mother. Rather than begrudge the fact his more attractive version is treated better by society, he uses his time as Fat Daniel to better himself physically and socially, and consequently gains some of the things he always wanted (admiration of Zoe, his own harem of amigos).
Then, there was the added mystery of why is Daniel waking up in a different body? Where did this body come from? T'was a nice touch of the supernatural in a story that was very much grounded in reality.
However, at some point Lookism went from being a critique of lookism to seemingly a critique of Korean society as a whole to a fight manwha. We get an arc on the perils of social media, an arc on stalkers, an arc on cults, multiple references to bullying and drug usage, a Hostel arc dealing with youth homelessness and human trafficking, yet until Jiho's arc (which is really a critique of the jail system) the story managed to maintain some semblance of it's original premise.
When Hot Daniel was put on a boat after Jiho tossed him out a window, Lookism became too overly focused on side characters who should've been spin-offs or something (Jiho, Jake, Johan) and descended into something like a typical, fight manwha revolving around gangs, money, and turf wars with Daniel nowhere to be seen. The quality of the story is still high – but the plot is seemingly very far off from it's original premise and those who were drawn to Lookism because of it's focus on lookism would probably lose interest.
Anyway, here's how I'd fix it.
1.) Remove the long arcs featuring other characters
Jiho, Jake, etc. While these arcs were good, they feel like filler episodes in the overarching plot. The two big questions are why is Daniel waking up with another body, and where did that body come from? And while I'm not fully caught up on the story, having stopped about ep. 340, we seem no closer to resolving these issues than when the story first began.
These side characters should've been side stories or spin-offs, not part of the main storyline.
2. Have tighter POVs
The story began pretty tightly from Daniel's point-of-view and mostly stayed that way save for occasionally focusing on Daniel's friends (like the cult arc, Zoe's balloons, or Jay and his pups) to focusing on tons of side characters, usually for very lengthy periods of time.
Limiting the POVs in the story to a handful of characters would help the plot seem less messy. Again, it's not that these characters aren't interesting, it's just that Jane Kim isn't the reason I began reading Lookism.
While overall I've enjoy Lookism for what it is (an interesting critique of various facets of Korean society + I honestly like seeing people beat each other up), it's beginning to read like a fanfiction of itself and I often find myself waiting for the story to progress a bit before picking it up again. Ultimately, it was the original, simpler premise that drew me to the tale of Daniel Park. In the absence of that, it's become a much more generic story about gangs fighting one another over money, rather than a poignant commentary on lookism.
Lookism Rating: 8.5/10